Zurück zu
Klassenintern
3B Data Handling Project: RECYCLING
Recycling and waste separation is one of the most important topics of our time. People should try to make their waste recyclable. That means that they have to separate their waste and dispose it in different containers.
We are aware of this problem and very interested in avoiding waste and having the opportunity to separate it. For example we are one of the only forms in our school, which separates paper waste. We also take the responsibility for emptying the box. This data handling project was a much welcomed opportunity to take a close look at the situation in our school.
In the three weeks project we compiled a questionnaire for the survey. This questionnaire was handed out to all students of grades 3 to 6.
Then we had to count the single outcomes.
To do so we used tally charts and separated the whole group of students into four subgroups. On the one hand we split them into ages groups on the other hand we wanted to know if there was a difference between the attitude of boys and girls.
It was hard work to document the outcomes and it took us a whole week to get all the results, which had to be represented with either pie or bar charts and interpreted afterwards.
Here are some of the most interesting - or surprising - outcomes of our survey.
Q8: Mülltrennung zu hause: Welcher Müll wird entsorgt?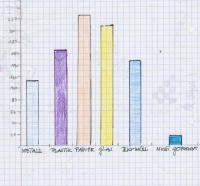 Interpretation:
General: 112 recycle metal, 167 recycle plastic, 227 recycle paper, 206 glas, 148 organic waste and
17 don't separate their waste at all.
Comparison of male and female students: males only recycle a little bit more
Comparison of 3/4 graders and 5/6 graders: younger students recycle more than the older ones.
m / f grades 3/4 / 5/6
metal: 72 / 65 68 / 55
plastic: 89 / 76 82 / 81
paper: 115 / 111 118 / 108
glas: 105 / 96 108 / 96
organic waste: 78 / 70 82 / 65
not at all: 10 / 7 8 / 8
Q9: Musst du zu hause den Mülleimer entleeren?

According to our data-handling-questionnaire, which grades 3 to 6 took,
63% of the girls and 48% of the boys empty their bins at home because their parents tell them to,
20% girls and 27% boys empty the bins because they want to and
17% girls and 25% boys do not empty the bins at all.
This shows that girls empty their bins at home more often that girls (83%) but more boys empty their bins voluntarily.
Inspecting the difference between the grades, we can see that in grades 3/4 more people empty their bins at home because they have to and in grades 5/6 more people empty their bins voluntarily.
Q11. Mülltrennung in der Schule: Welcher Müll wird getrennt entsorgt?
Interpretation: Luckily most of the students are aware of the fact that litter is hardly separated at all in
our school.
What's interesting now is: what do they make of it?
Q13: Wärst du bereit, die Altpapierbox deiner Klasse einmal wöchentlich zu entleeren?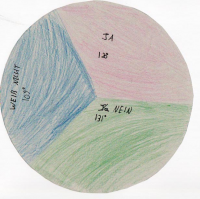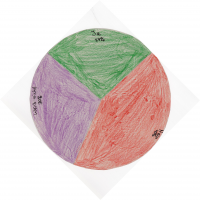 Interpretation: Many more of the younger students would be prepared to empty the paper waste box weekly (33% grades 3/4 and 27% grades 5/6).
Unfortunately even more students do not want to contribute at all (37% in grades 3/4
and 43% in grades 5/6)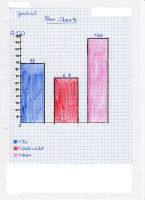 The general outcomes shows the same results even more clearly. Although many students would be prepared to empty the waste-paper-box (31%) many more do not want to contribute (45%).
Datei: Q14: Kaufst du täglich (zumindest) eine Getränkeflasche in der Schule?
Q15: Ist es eine gute Idee, an Schulen Müll zu trennen?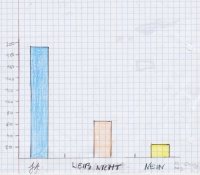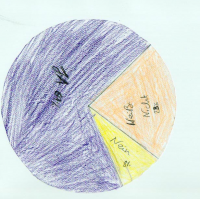 Here two different representations of one and the same outcome.
Surprisingly (after having observed the outcome of Q13) most students welcome the idea of separating waste in schools!!!
Q18: Sollte man in der Schule ein Pfandsystem für sämtliche Getränkeflaschen zur
Vermeidung von Abfall einführen?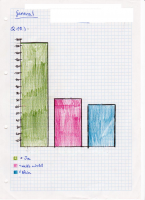 Interpretation: 53% of all students are against the non-refundable bottles in the vending machines and
the canteen. They would welcome an bottle deposit system to avoid plastic waste.
Datei: Q19: Wie viele Mülltrennungsboxen sollte man aufstellen?
Overall we got the impression that most of the students are aware of the lack of waste separation at our school.
More than half of the students would welcome a bottle deposit system and a decent contribution of recycling boxes throughout the whole school.
And a third (!) of all students are prepared to take a more active part in a functioning recycling system in our school.
And last but not least
MANY THANKS TO ALL STUDENTS FOR CONTRIBUTIONS TO OUR PROJECT
which was very interesting to work on.
3B
---
Für den Inhalt dieses Artikels verantwortlich:

Mag. Dr. Petra Frantsich
erstellt: Mo, 23. Aug 2010, 22:03:58
letzte Änderung: So, 29. Aug 2010, 10:31:31